I'm on a bit of a Burda bender! They seem to be pretty well drafted, and I love that I actually use the size that my body measurements indicate! Unfortunately there's no finished garment measurements listed, but since there's no seam allowances most garments can be measured easily. This was not one of those garments!
One thing that does drive me a little crazy about Burda, is their website. I'm sure lots of people have made this dress, and I'm sure some of those people have posted the results to Burdaystyle.com - why on earth are they not linked to the pattern page??? Amy of SewWell has one of the few reviews of this pattern I could find, and she blogs for Burdastyle regularly, but there was no link at all to her dress on the pattern page. I hear that they're re-designing the US version of the website, so maybe they'll sort that out.
I'm still using the same method for tracing that I came up with last year, but I'm getting faster at it.
Pattern Notebook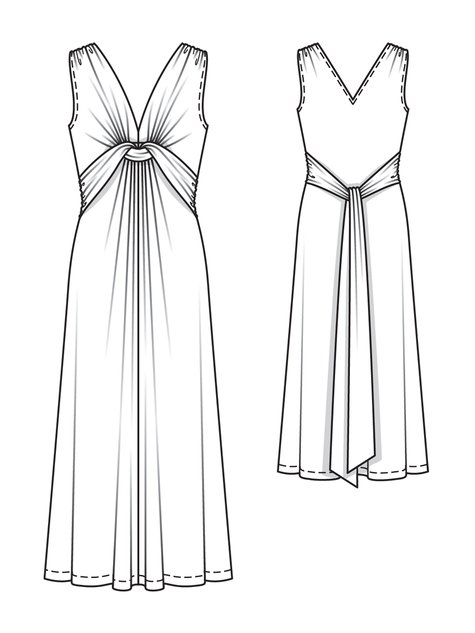 View / Size used: Size 40, this was the closest size for me for waist and hips. My full bust was bigger than size 40, but I figured with stretchy fabric and all those gathers, I'd be ok.
Fabric Used: Some kind of poly mix from Fabric Planet downtown
Pattern alterations or any design changes you made: Not a thing
Were the instructions easy to follow? This pattern had a 'Sewing Course', so there were actual illustrations to help you along! I still struggled a little, but I NEVER would have been able to put this dress together without the additional illustrations.
What did you particularly like or dislike about the pattern? I really like that all of the seams (except the side seams) are nicely tucked away. I think it's great design, adding all those gathers without adding too much bulk at the empire line, and still providing shaping at the waist via the tie. I will say that the ties are almost floor length, which seems a little excessive for a casual dress.
What did you particularly like or dislike about the finished garment?
This has to be the worst pattern placement in the history of sewing. OK, maybe not, Peter has found worse ones, but I did a really shoddy job with the pattern placement. When I was laying it out, I briefly attempted to match up the side seams. I decided that it was impossible, and I couldn't figure out what pattern piece was going to end up at the center front so I abandoned trying to line anything up at all.
The back is cut on the fold, and I totally missed the opportunity to have the back V-neck line up with one of the chevrons. There is also some really badly mis-matched lines of chevrons in the front. The pattern placement bothers me when I look at the pictures, but not at all really while I'm wearing the dress, hahah.
Would you sew it again? Would you recommend it to others?
I might just sew it again, I think the design would look great in a solid (should have done it in a solid first, dammit). I would recommend it, it's surprisingly quick to make, but that recommendation would come with the notes on construction below.
Construction notes:
Ok, well the instructions actually are pretty good, but they're still Burda-style (see what I did there?) instructions, so I did have to read them and re-read them over and over. They pack so much in to those sparse little sentences that I find it helpful to break down their steps in to sub-steps with colourful pen.
Even still, there was one spot where I was really scratching my head, it's illustration 4 for the Upper Front.
My confusion came because the pattern is marked 'center fold' at the fold line, but that is not the center front. I thought that the pattern was orientated this way:
But it's not - the facings are where the v-neck is formed, so really the pattern goes this way around:
They also include the number 4 in the instruction, and for a while, I thought they were talking about seam line 4, and not illustration / step 4. Gah!
So what they want you to do, is sew along the line I've marked below in red. You are basically sewing the facings together along the foldline, forming the centre front.
The top of this seam line, is where the V neck sits and their v-neck mark is really really low. Luckily this seam isn't enclosed, so it's easy make the V a little higher after the dress is together and you can try it on. I ended up sewing about 4 more inches higher than their mark!
I was also a little confused with step 5a and 6. In 5a, you sew a really short seam, between the green marks above, and no further. I had to rip out and re-sew this stitching, because I had sewn past the marks. The lower front is threaded through either side of this seam, so you have to leave enough space for all that fabric.
As far as I can tell, step 6 is totally unnecessary. They have you pin gathers in to the fabric, and I couldn't tell for the life of me what fabric was being gathered. When you add the lower front to the upper front, the upper front gathers up naturally, so no need to bother doing it ahead of time.
Machines / settings used:
Janome 7318 for sewing and basting. I used a 2.5 mm narrow zig-zag (Width:1) for sewing, 4mm straight stitch for basting.
Brother 1034D serger to finish side seams only. I was able to re-use the same settings as the beach cover-up! Whoo hoo, all this settings recording paid off!
Differential Feed: 1
Stitch Length: 4
Stitch Width: 5
Tensions: Left Needle: 4, Right Needle: 4, Upper Looper: 4.5, Lower Looper: 4.2
And that's it! Another lovely burda pattern.