This pattern is terrible in more ways than I can keep track of. There was a pattern piece that was supposed to be cut on a fold on a different grain that the other fold pieces! Have you seen the crotch piece? It's bizarre! And then the instructions. Ohh lord, the instructions.
I downloaded this pattern a long time ago when it was free, and now it costs $3. You would think that since they're charging actual money for the pattern they've added some actual directions, but no, they've actually borrowed some from a blogger that waded through the mire, and wrote up some helpful, but far from clear and complete instructions.
Unfortunately, there are many people who have used their skills and knowledge and finally got a decent looking swimsuit out of this pattern. Many of them are now dangerously modelling this swimsuit looking happy and pleased with themselves on the burda website, enticing other people down the rabbit hole of this maddeningly awful pattern.
(Does this post make me part of the problem? I hope not. If you want a GOOD swimsuit pattern, look to Kwik Sew - my review of K2962)
Anyway....
Since I did take pictures, and my pillow was kind enough to model the swimsuit for me (with the help of a bra), here are a few things that I did to rescue my lovely fabric from this piece-of-junk pattern. (My bullet point review on patternreview.com is here)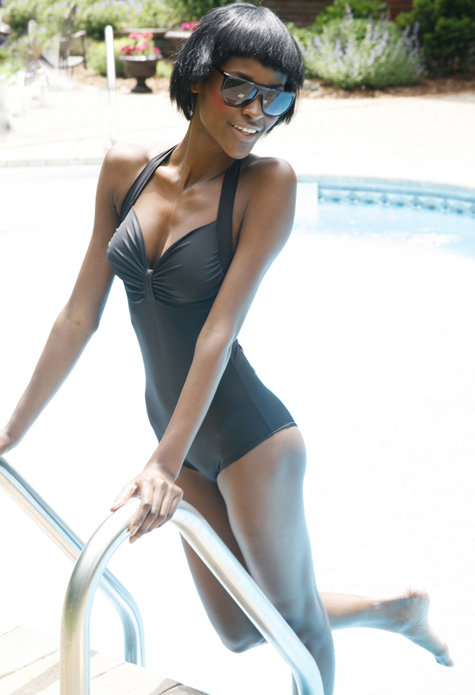 Many versions of this pattern are beset with fit issues, that are the direct fault of bad pattern drafting. Victim no. 1 is the model wearing the suit for Burda's own official pictures.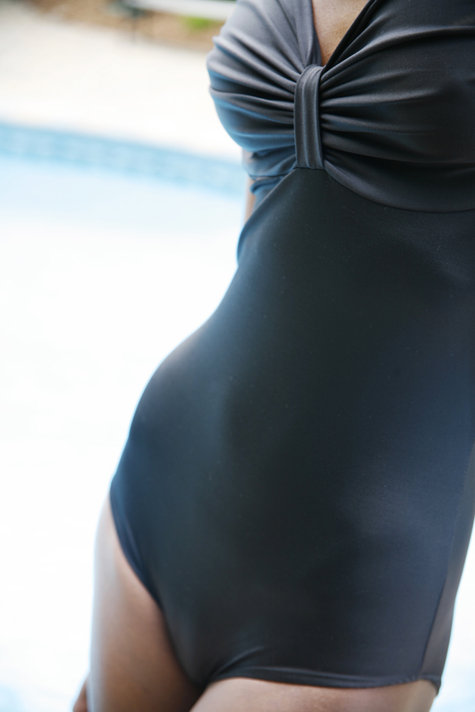 It's not as obvious on her because she's a super skinny model, but if you look closely you'll see the seam of the bust piece actually starts about 2" below her bust. She's getting away with it, but it looked really really awful on me.

The seam which joins the bust area and the bodice is a fairly straight line across the chest. That's why the model has that weird pulling line on her bodice, the shape of the gathered bust is not accounted for.
I added shaping to the top of the front bodice. This may have helped or it may have caused me more problems, I'm not sure, but I do think it allowed the bust piece to sit in a more flattering way.
I also shortened the bust piece so it wouldn't stretch all the way down my ribcage.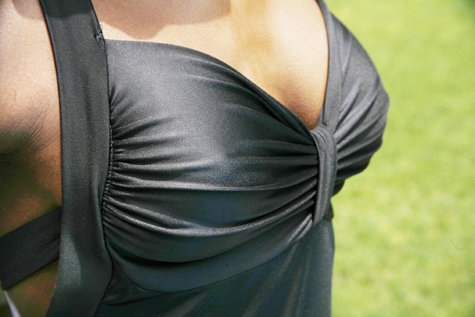 After I had sewn the halter strap along the back, I put on the swimsuit in order to pin the strap to the bust piece, so it was snug against me.

I really couldn't tell you how Burda intended the strap to attach to the bust piece, but as you can see from the very bottom of the picture to the left, even the sample makers had trouble.
After I'd sewn the straps to the bust piece I tried it on again. I still didn't feel that it was totally secure, so I decided to cross the straps and sew them to the back of the suit rather than having a halter and a back strap.
(I was also never quite sure how the second strap attached - should I have sewn it to the halter strap or the bodice? )
I still wasn't satisfied that I wouldn't fall out, so I added some clear elastic to the bust-line.
I'm now fairly certain that I can bend over without fear, but I haven't attempted actual swimming yet.
The people who made the sample clearly had better instructions / methods than came with the pattern because the finish around the leg hole doesn't look too bad. The instructions say that the optional finish here is to use really gigantic leg bindings, but then it doesn't give any other options.
I did a normal (Kwik Sew) elastic-turned-under method. Much nicer and neater.
Well, I'm glad that I finished it, but not about the forty-nine times I've tried it on, sighed, brainstormed, ripped out my last bit of stitching, sewn up again, tried on and sighed some more. Yes it was free, and I know Burda are renowned for their sparse instructions. But from my point of view as a beginner, this pattern was a complete disaster.
As a palate cleanser, I made some knickers. Or panties, if you like. I'm not usually in the habit of showing my knickers to strangers, but I'm not wearing them, so it's a little less strange.
The two with the lace are the bikini bottoms from Kwik Sew 3696. I wasn't intending to use lace at first, but the pattern was really low on me. Then I liked it so much I did it again. The other two are the View H bikini bottom from McCalls 5400. This one was super high rise, so I sliced some off the top before adding the elastic. In both patterns the crotch was too wide. I think it's because they are intended to be turned in twice with the elastic, but I only turned them in once.
The fabric is all scraps and the lingerie elastic and stretch lace is all from Fabric Planet in Venice. I promise I have no affiliation with them, they just have good stuff at good prices.